This shop has been compensated by Collective Bias, Inc. and its advertiser. All opinions are mine alone. #Homemade4TheHolidays #CollectiveBias
Who has started their holiday shopping by visiting Sam's Club? (Me – raising my hand.) I love going to Sam's Club to stock up on my Christmas shopping list as well as my pantry! I wanted to get some ingredients for making delicious pho ga.
Growing up, I ate pho for breakfast, lunch and dinner. The smell of pho brings back memories. So I get excited over the holidays when I can bring my family over to my parent's house and get a taste of my mom's delicious pho! I'm going to be honest – I haven't made my own pho until this weekend! It's not that I don't know how to make it (after all, my mom required me in the kitchen helping her growing up). It's that I tend to gravitate to momma's cooking during the holidays! A hot, warm bowl of pho is just what the doctor ordered!
During this holiday season, I'm not only trying to cultivate my family's love of Vietnamese cuisine, but I'm also trying to raise them to be givers. While giving should occur year round, the holidays are a great time to teach kids empathy and generosity. I am always trying to think of ways how I can teach my children the gift of giving and reminding them that there are others in need. We often give to the local food bank in town by donating canned goods.
During our shopping trips to Sam's Club, I often pick up several packages that we can deliver to those in need while also shopping for my own family. On this recent trip, I stocked up on Campbell's® Condensed Cream of Mushroom Soup for a convenient pantry pack and Swanson® Chicken Broth, which are in resealable cartons for all of my cooking needs. These Sam's Club packages will provide plenty of extra for giving to our local pantry.
Sam's Club will be hosting their annual Holiday Taste of Sam's event, a huge in-club demo sampling occasion. Swanson® Chicken Broth will be sampled with Idahoan Mashed Potatoes on Dec 21 & 22, which means you get to do some sampling and take advantage of a temporary $1.50 price reduction off of Campbell's® Condensed Cream of Chicken Soup and Campbell's® Condensed Cream of Mushroom Soup!
Ready to shop for these delicious products? Hover over the image below to click through to SamsClub.com for purchase.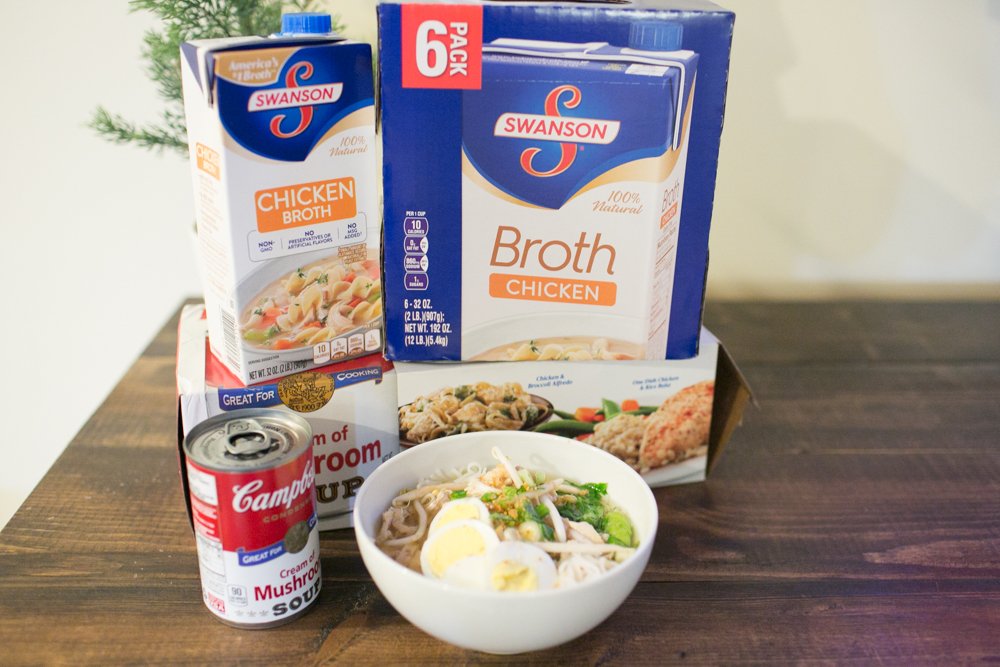 Now, for what you've been waiting for – an easy pressure cooker pho ga recipe that takes less than 40 minutes to make! Seriously, if you have never had pho before, it is this delicious broth with noodles and (in my version) chicken! I love how I can use Swanson® Chicken Broth because it is 100% natural with perfectly balanced flavors! This might be a great Christmas Eve recipe that you can share with your family if you are looking for something non-traditional this holiday season!
Broth
2 onions, halved
1 ginger root, peeled
5 star anise seeds
4 cloves
1 teaspoon fennel seeds
2 chicken breast
1/4 cup of chopped cilantro
pho bullion (if available, not necessary)
4 cups of water
2 32 oz cartons Swanson® Chicken Broth
Toppings
rice noodles, softened
4 hard boiled eggs, sliced
lime
jalapeno, sliced
fish sauce, to taste
soy sauce, to tast
sugar, to taste
mint, basil, bean sprouts (your favorite herbs)
hot sauce
cilantro and scallions, chopped together
In your pressure cooker, set it to saute. Add the onions and ginger until they are smoking/charred. This is the most important part!
Add fennel seed, cloves and star anise. Cook for 1 minute more.
Add in the chicken breast, cilantro, pho bullion, 2 boxes of Swanson® Chicken Broth.
Set the pressure cooker on manual for 30 minutes.
Once it's done, let it natural release.
Slice up chicken from the broth.
Put the softened rice noodles in a bowl. Cover with broth.
Add chicken, fish saucesugar, pour immediately over the water.
Pressure cook it at a high for 15 minutes.
Once cooking is complete, let it natural release for 10 minutes. Season with salt and pepper as desired.
Place noodles in bowl. Add the sliced chicken into the bowl. Pour over the broth.
Top it with a squirt of lime, scallions, cilantro, herbs, lime, bean sprouts and jalapeno.
Swanson® Chicken Broth will be sampled with Idahoan Mashed Potatoes on Dec 21 & 22! Happy holidays!
Check out more Campbell's® Cream Soups and Swanson® Broth holiday recipes and inspiration here!