This shop has been compensated by Collective Bias, Inc. and its advertiser. All opinions are mine alone. #nothinglikeahug #CollectiveBias
My kids LOVE everything to do with crafts and dressing up. While Halloween has just passed, it doesn't mean that they can't wear the costumes around the house throughout the year.
Out of my four kids, I have one boy. He's the third in my crew. He LOVES anything that has to do with construction trucks, planes, police cars and fire trucks! Every time we drive pass one on the road, you can hear him calling out in the back of my car. My girls were the complete opposite – they didn't like cars, they would rather dress up or do crafts!
Also, he has definitely shown me that potty training him is VERY different that potty training my girls. If I recall correctly, my girls were potty trained at around 15 months. With him, I'm not doing anything different, but he's about two and a half years old and still not potty trained. We're working VERY diligently – putting in place reward systems and recognition. Needless to say, we are going through diapers at a very rapid pace in this household.
Not to mention, we've got his little five month old sister! During the week, I literally have no time between work and extracurriculars to run errands for diapers. I trust my diaper supply with Sam's Club because while they offer daily savings on Huggies®, they now have a limited time savings offer on Huggies® Diapers, Pants and Wipes at Sam's Club this holiday season: Buy any 2 Huggies® at Sam's Club and get $8 in Instant Savings – which is valid 10/25 – 11/22. Get an additional $4 savings through Ibotta when you buy Huggies at Sam's Club
With my little boy, I stock up with Huggies® Pull-Ups to continue on his potty training journey at home and at daycare. It teaches him how to potty, but also provides reliable protection!I also use Huggies® Little Movers when we know that we are inconsistent with his potty training schedule – it is designed for the best fit to hold the diaper in place while he is actively playing. My 5 month old uses Huggies® Little Snugglers to keep her smooth and perfect skin clean, healthy and dried as needed.
I love shopping at Sam's Club because not only do they already have low prices for their members, they offer Sam's Pick-Up Service, Subscription Service and the Scan and Go Service to make shopping a breeze! I can walk right in and right out with what I need after ordering online.
Click on the image to shop for Huggies® diapers below!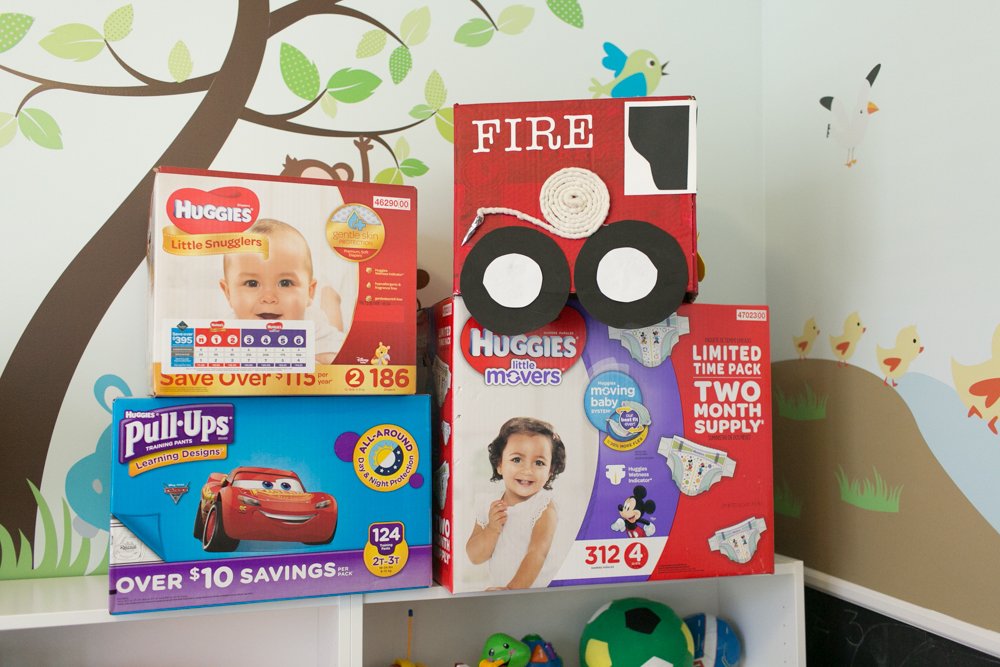 With all those boxes of diapers, you've got to find a way to recycle them right? Well, like I mentioned, my little boy loves anything that has wheels. So we converted one of these boxes into a fire truck. What kid wouldn't want to dress up as a fire truck any time of year? See below for the tutorial on how to create a DIY fire truck out of old boxes!
Supplies for the Fire Truck Costume
Huggies® empty diaper box (or any empty box)
red paint
construction paper or felt
heavy duty neon yellow tape
craft cutting machine (optional)
glue
stapler
Directions for Making a Fire Truck Costume Out of Empty Boxes
Cutting and Painting the Empty Boxes
First, you want to cut off the flap of one side. On the other side, cut off the inner two flaps, then tape the remaining flaps together. Cut a hole that is wide enough to fit your child's shoulder through. Next, paint it red. I three coats of acrylic paint to cover up the box.
Decorate the Sides of the Empty Box
After letting it dry, I started cutting out windows, ladders, lights and signs. I used my craftcutting machine to find some images that I liked, traced it and cut it out. You don't need a craft cutting machine, just get creative.
For the wheel and tire, I cut the felt into a circle big enough to fit two of them on the side. I also used cushion cording that I had left over to glue it into a spiral for the fire truck's fire hose. I added aluminium foil to the end after folding it into a cap triangle for the nozzle.
Attaching the Straps for the Fire Truck Box Costume
To create the strap, I took heavy duty tape and taped the sticky sides together. I then placed the box on my child with arms OVER the box to get the right measurement. Next, put the strap on the backside of the box with an X shape so that it will stay on! I used a stapler to attach the straps.
Here's what the back should look like when it's on:
The total cost of making this costume was next to nothing! Isn't it the cutest? Can you believe I made it out of an empty diaper box?
Here's each of the sides of our box design:
We're keeping this in our playroom! To get your box, head on over to Sam's Club for the Instant Savings on Huggies® diapers!